It's Apple Orchard Season!!
Fall means it is time to hit the apple orchards!! Chippewa County's beautiful rolling valleys offer perfect land for our lovely orchards. From incredible apple trees to mouthwatering homemade desserts and wines, here's where to get the orchard experience this fall:
Bushel & A Peck
Bushel & A Peck is situated on a scenic ridge separating the Chippewa River Valley and the Eau Claire River Valley. The orchard was planted over a century ago and now includes over 20,000 trees producing over 30 varieties of apples. Apples aren't the only thing you'll find at this orchard. They also have currant plantings, raspberries and a pumpkin patch.
Connell's Family Orchard
Connell's Family Orchard offers fun for the entire family! Throw on your coziest sweater, and head to the orchard to find 30 varieties of apples. They carry apples to fancy the taste buds of ALL apple lovers. From sweet and tangy to tart and sassy, they truly have a taste of everything for everyone.
Additionally, they grow pumpkins, raspberries, blueberries, and plums. Blueberries are ready for picking in June/July. Raspberries are ready for picking in July and can be harvested until the first frost. Pumpkins are ready in September and October!
Niblett's Apple Shed
The Niblett family purchased their orchard in 2008, known today as Niblett's Apple Shed. This orchard is one of the oldest apple orchards in Chippewa Falls, and now one of the newest with the family's ownership! Their orchards features a great selection of apples and juicy pears. The orchard itself is beautiful, and visitors will be beckoned to walk through it.
There is more than just apple picking at the orchard. Enjoy a game of mini golf, free wagon rides, apple slingshot, photo opportunities, a free corn maze, and a petting zoo. Bring a picnic lunch, or grab a bite from their concessions available Saturday and Sunday.
Dixon's Apple Orchard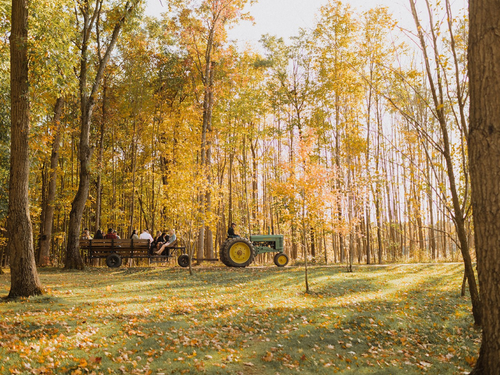 Dixon's Apple Orchard is a stunning outdoor venue perfectly situated on over 100 acres in the countryside of the Chippewa Valley. Offering the iconic Champagne Apple, Dixon's Apple Orchard is a local favorite. This apple will be featured at their Fall Fest from October 6 through the 8th.
Dixon's is home to our world-famous Champagne apples, a variety discovered and grown first by Fred Dixon. This golden apple with a hint of blush is a firm, good keeper. It's sweet but spicy and juicy for baking and eating. The Apple Hangar and Bar are open every Saturday & Sunday 11 am to 6 pm. Picking is open Wednesday through Sunday and apples are available during the week right at the winery.
Even More to Go + Do
There is even more fall fun to experience in Chippewa County! Drive through the back roads to see the beautiful fall colors. Catch a local event, or hike the fall trails. No matter what you do, you will have the best time ever.