Discover Chippewa County's Captivating Fall Colors
As the summer warmth gently gives way to the crisp air of autumn, Chippewa County, Wisconsin, transforms into a captivating wonderland of fall colors. Nature's paintbrush strokes the landscape with brilliant hues of red, orange, and gold, creating a breathtaking tapestry that must be seen to be believed. Explore the charm of this season by venturing through lush orchards, where the bountiful apples dangle from branches, just waiting to be picked. Uncover the region's rich heritage of winemaking as you tour the local wineries, savoring the delectable flavors that perfectly complement the season. Wander through the dense forests, where the rustling leaves and the earthy scents embrace you in a warm embrace. Embrace the magic of autumn in Chippewa County, as it reveals its most captivating and colorful splendor.

Chippewa River Tour
As you travel on the Chippewa River Tour, there are a number of different things to see and do. Pass through downtown Chippewa Falls offering many historic landmarks, an array of attractions, as well as many culinary delights. These include: Leinenkugel's Brewery, Mason Shoe Outlet Store, Irvine Park, the Cook-Rutledge Mansion, and Olson's Ice Cream, just to name a few. As you continue your drive, enjoy the exquisite views of the Chippewa River and Lake Wissota. Pass by Xcel Energy's Jim Falls Hydropower Plant where Old Abe, the war eagle, still stands guard.
Approximately 18 miles.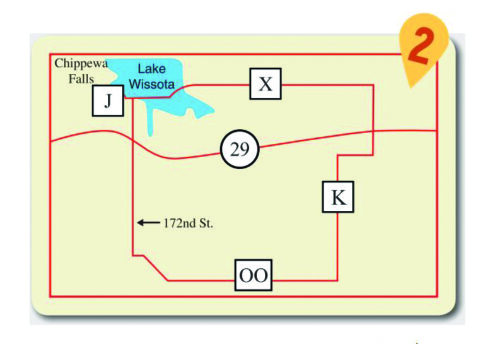 Orchards Tour
You will be amazed at the natural beauty that the Orchards Tour has to offer. While traveling through the countryside, take in breathtaking views of several apple orchards and stop to enjoy a taste of locally made fruit wine at Dixon's Autumn Harvest Winery. Enjoy the orchards all year long whether by viewing the apple blossoms in the Spring or enjoying a tasty treat in the Fall. Approximately 14 miles.

Countryside Tour
The Countryside Tour takes you through many rolling hills blanketed with color. This rural route includes a pass through the village of Eagle Point. Enjoy a rest and take in the natural beauty at Cornell Lake.
Approximately 24 miles.
Brunet Island Tour
The Brunet Island Tour takes you past some awe inspiring views including the Chippewa County Forest, Brunet Island State Park, and the only remaining pulpwood stacker. A section of the trail is part of the Rustic Roads program as designated by the Rustic Roads Board which makes this tour truly unique.
Approximately 18 miles.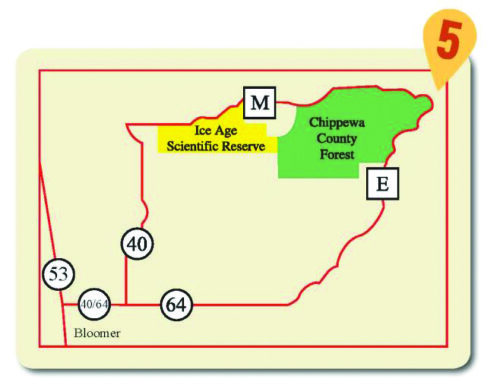 Ice Age Tour
Wildlife, trails, and an array of small lakes make up the Ice Age Tour. Take in the fresh air as you travel through the County Forest and the Ice Age National Scientific Reserve. If you would like to stretch your legs, there are a number of different lakes to stop and see, including Cornell Lake and Shattuck Lake.
Approximately 31 miles.
Otter Lake Tour
The Otter Lake Tour is for the naturalist at heart. While traveling along winding roads and over rolling hills, you may pass by an old farm, bridge, or waterway. Stanley is located along this route and has an array of things to see and do. It is home to the Ace Ethanol plant, and Chapman Park. Eat at an area restaurant, browse through local shops, stop at Otter Lake (a few miles outside of Stanley), or swing through the quaint town of Boyd.
Approximately 38 miles.