Valentine's Day in Chippewa County
Ahhh, love is in the air which means it's time to get ready for Valentine's Day in Chippewa County! From incredible date night spots to exquisite lodging opportunities, you are going to LOVE your Valentine's Day in Chippewa County. Let's see what's on the docket:
Dine Out at a Locally Owned Restaurant
Chippewa County is proud to house many locally owned restaurants. Enjoy a casual (and absolutely delicious) dinner at the mom-and-pop style of the Chippewa Family Restaurant. Or, head to Wissota High Shores Supper Club nestled on the shores of Lake Wissota for a fancier vibe. Dine on authentic Mexican cuisine at Max's Bar & Bistro. We could go on and on and onnnnnnnn about all the amazing spots to eat,  so be sure to check out even more restaurants to celebrate Valentine's Day:
Lodge in Style
Whether you're looking for a weekend away, or you want to celebrate a Friends Valentine's Day, we have the perfect lodging options for you!
For the Romantics
Nestled on the banks of Lake Wissota, the Inn on Lake Wissota is a quaint spot to stay for the ultimate weekend getaway. Add a Luxury Romance Package to your stay to make it an unforgettable weekend!
For the Friend Group
Stay in the luxurious HB Apartment Airbnb located in downtown Chippewa Falls. Just steps from Leinie Lodge, Wissota Chophouse, Irvine Park, and so much more. This is the ultimate spot to spend an awesome weekend with your friends!
See a Show
Head up to the beautiful Heyde Center for the Arts for a lovely date night show! Whether you're bringing the entire family, or going on a quiet date night, there are everybody. Here's what's on the docket:
February 11 and 12: Underneath the Lintel with Saved by the Bell actor Patrick O'Brien
Open through February 15: Beryl Ouimette Retrospective Show featuring artwork from Beryl Ouimette
February 19: Jason Hudy, award-winning magician
See All Shows at Heyde Center for the Arts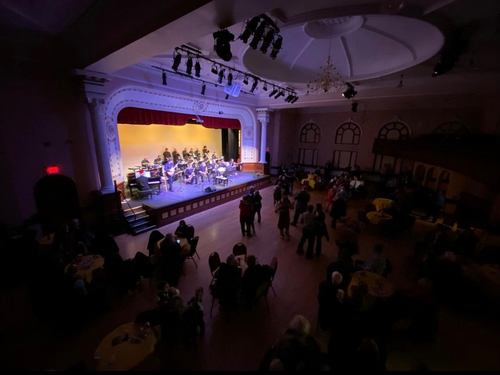 Toast to Love
Cheers to you and yours with a locally made cocktail from one of Chippewa County's breweries or distilleries! For beer lovers, get a taste of history at the Leinie Lodge, where they have been brewing Leinenkugel's beer for 150+ years. Or, head up to Bloomer Brewing Co. to try their iconic s'more brew!
If you're looking for a cocktail, we have to send you to the Chippewa River Distillery to try Trumie's Vodka. Made in Chippewa Falls, Trumie's spirits craft some of the best tasting cocktails ever (yes, we mean ever.)!

Even More to Go + Fall in Love With
This is just the beginning of all the LOVELY fun awaiting you in Chippewa County. Check out what else you can do during your Valentine's Day celebration: