Getting to Chippewa
Located a quick hour and a half drive from the Twin Cities, and a three hour ride from Madison, it's easy to get to Chippewa County for a visit! Let's get planning for your trip:
On the Road
There are a few highways that make the drive to the Northwoods, what do they say, easy-peasy-lemon-squeezy? If you are hitting the road from Minneapolis/St. Paul, jump on 94 East and before you know it, you will be exiting onto North 53. Along the way, there's plenty of gas stations and restaurants for pit stops.
If you are joining us here in the Northwoods from Eastern Wisconsin, you will get here by taking State Highway 29 or 94 West. The drive is a quick one with views of Wisconsin's rich farmland. We recommend a stop in Thorp at Marieke Gouda. Their award-winning gouda is, well, really gouda.
Chippewa County lies off of State Highway 53 (running north and south), which will be your exit coming from both West and East!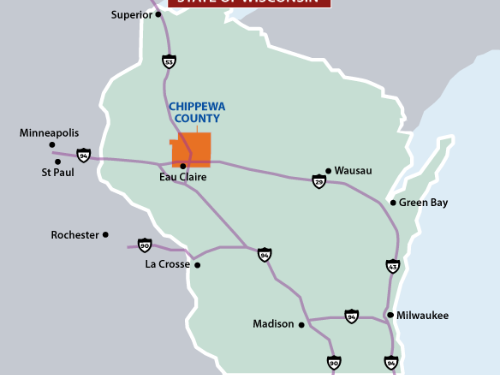 In the Air
The Chippewa Valley Regional Airport offers weekly flights to MSP year-round with other seasonal flights, too. Located eight miles or less from hotel accommodations, this location makes your travels simple. In the area, there are Uber, Lyft, and Taxi services to finish the final leg of your travels.
The Minneapolis/St. Paul (MSP) Airport operates an hour and a half away from Chippewa County. Rental cars are available upon your arrival at the airport. Another great option is using Groome Transportation. This transportation service brings visitors from the Chippewa Valley to MSP.
See You Soon!
There is so much to go + do in Chippewa County. Check out what could be on your trip agenda: