Snowshoeing in Chippewa County
We have all things Winter on our mind, which means it's snowshoeing in Chippewa County season!! As the temperatures drop, and the snows begin to fall, this will be your ultimate guide to have the best snowshoe adventure. Let's see where you can explore:
It Isn't BYOS (Bring Your Own Snowshoes) – Rental and Purchase Options
If you already own a pair of snowshoes, great! But for those of you who don't, we have got you covered.
Spring Street Sports in downtown Chippewa Falls sells and rents snowshoes –> Check Out Rates
Located in the Northern part of the County, Rocque Ridge Guides and Outfitters sells and rent snowshoes –> Check out Rocque Ridge
 The Chippewa Moraine State Recreation Area offers snowshoe rentals –> Check Out Chippewa Moraine Area
Hickory Ridge Recreation Area
The Friends of Hickory Ridge work hard to maintain the trails of Hickory Ridge Recreation Area for all sorts of winter sports – including snowshoeing. Explore nearly 17 miles of breathtaking winter beauty as the trails wind through the scenic northern hardwood forest. After you explore, head a short drive south to Bloomer and warm up with a handcrafted beer at Bloomer Brewing Co. We highly recommend trying a taste of the s'mores brew!
Explore Hickory Ridge Recreation Area
Irvine Park & Zoo
Irvine Park & Zoo is just minutes from downtown Chippewa Falls, which means you don't venture too deep into the Northwoods. These trails meander over bridges, past historic sites, through forests, and by Glen Loch Dam. Cross the bridge to enter Erickson Park to add more miles to your adventure. After a day of snowshoeing, head to downtown Chippewa Falls to check out the local shops and restaurants!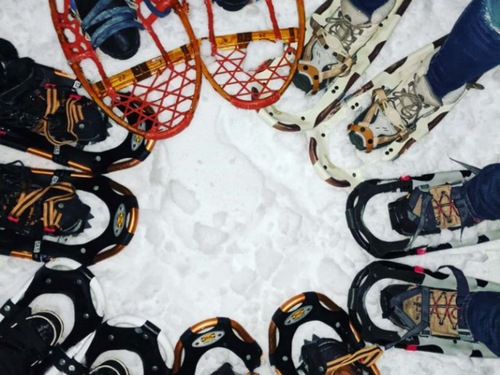 Beaver Creek Reserve
Located just minutes outside of Chippewa County, Beaver Creek Reserve offers a magical snowshoeing adventure. With multiple loops ranging from a quick excursion to a longer hike, there is something for everyone. Snowshoes are available to rent from their visitor center. They are also offering an Intro to Snowshoeing class on January 21, 2023.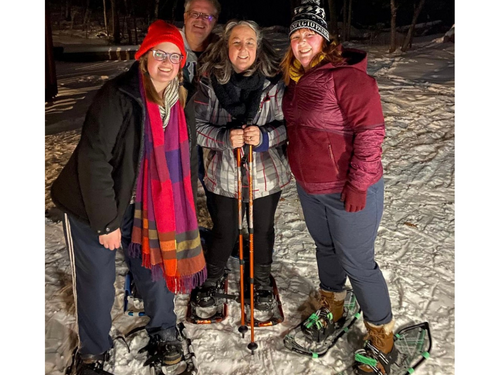 Even More to Go + Do
There are even more snowshoeing options within Chippewa County, and lots of other Winter activities to explore. Check them out below: