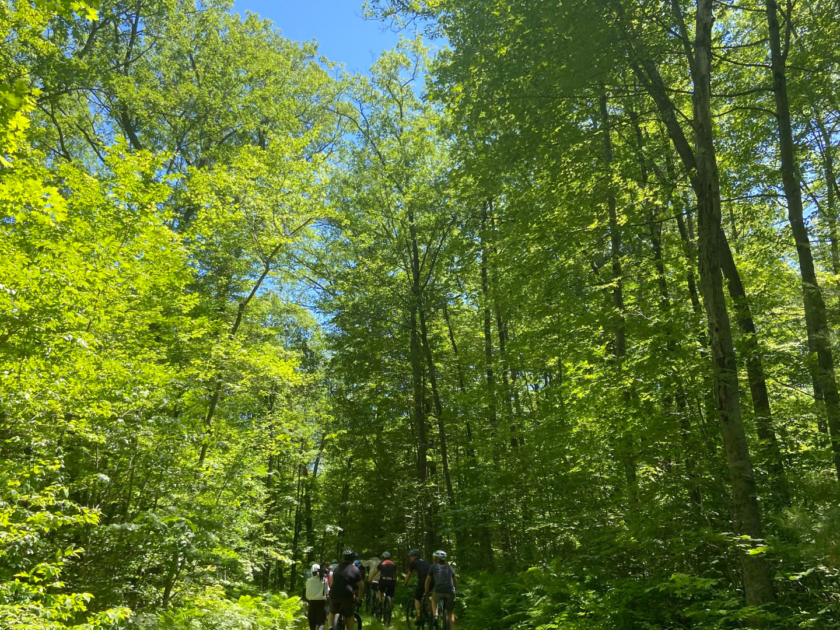 Address: 16864 225th Ave.
Phone: 715-723-0331
Website: Visit Now
Hickory Ridge Recreation Area
Hickory Ridge Recreation Area is a beautiful composite of trails that can be used year-round.
Warm Weather
The off-road mountain biking trail wind through the scenic forestry for 14 miles. The trail consists of three challenging loops. These trails are maintained throughout the spring, summer, and fall for hiking and mountain biking.
Cold Weather
During the winter, the trails are groomed for snowshoeing, fat-tire biking, and traditional and skate-style cross-country skiing. The ski trail is 27 kilometers in length and winds through the scenic northern hardwood forest. It consists of multiple loops with rolling to steep grades. All loops are an exciting challenge for skiers. The trails are expertly groomed by the Friends of the Hickory Ridge Trail.
The Routes
The South Loop: begins at the parking lot off Bob Lake Road (225th Ave.). Two kilometers into this trail, visitors can continue to the North Loop or turn around to the parking lot.
The North Loop: the terrain become more challenging with longer downhill and uphill grades.
The Tram Loop: exits the North Loop just beyond kilometer three, and provides the most challenging terrain of the entire system.
Ski trail lean-to shelters have been provided on both the North and South loops as rest stops for skiers. All loops are signed with either a snowflake or cross-country skier blazer.
There is no fee to use the trails, but donations are appreciated. There are donation canisters at the Dog-Island Lake Trailhead and the South Loop Trailhead. ALL donations are used to improve the Hickory Ridge Cross-Country Ski Trail!
For current trail updates, visit them on Facebook!