On the Go In the Snow: Chippewa Winter Challenge
Winter in Wisconsin bring many images to mind – hot cocoa, a warm fire, and cozy sweaters to name a few.  We also hope you view this time year with a sense of outdoor awe and adventure!
No matter your location or income level, Chippewa County provides a rich array of opportunities for winter wonderland fun. From hiking to snowshoeing to sledding to ice fishing to cross country skiing to ice skating and fat tire biking, chances for recreation abound throughout the county.
What is the Challenge?
All these activities (and more!) provide important physical, mental, and emotional health benefits.  Yet nearly one quarter of Chippewa County residents report no physical activity outside of work, and only one in four adults and one in six high school students meet federal guidelines for aerobic (cardio) and muscle-strengthening activities (CDC).
That is why Go Chippewa County and Chippewa Health Improvement Partnership are teaming up to help make sure this season remains long on enjoyment, even if short on daylight. As part of our effort to encourage healthy cold weather habits, everyone who participates in the On the Go in the Snow: Chippewa Winter Challenge from January 1 through March 31, 2023, will receive a challenge sticker and enter into a drawing for monthly prizes, as well as a fabulous grand prize!
Keep these simple Chippewa Winter Challenge rules in mind:
Spend at least 30 minutes engaging in some type of outdoor physical activity in Chippewa County any day between Jan. 1 and March 31, 2023.
E-mail your name, address, and type/date/location of activity and a photo to Go Chippewa County at visitorcenter@chippewachamber.org or message that information/photo to the Chippewa Health Improvement Partnership Facebook page.
One submission per week. This submission can include multiple days of activity (example: upload 3 photos with location and date of activity in one submission). Each activity will count as a separate entry in the drawings!
Everyone who submits at least one entry will receive an official On the Go in the Snow: Chippewa Winter Challenge sticker.
We encourage you to check out as many of the great outdoor recreation ideas (and locations) on the Go Chippewa County website as possible, but we won't limit the challenge to those activities or places.  The only rules for participation involve spending at least 30 minutes engaged in outdoor physical activity somewhere in Chippewa County between January 1 – March 31.
Time for Some Fun!
Physical activity is key to preventing and managing a wide range of chronic diseases – from Type 2 diabetes to heart disease to dementia to cancer. Plus the American Psychological Association reports a host of benefits from spending time in nature, such as improved attention, lower stress levels, better mood and even higher levels of empathy and cooperation!
So venture past those frosted windowpanes during the New Year, fill your lungs with cool, crisp air, and enjoy fresh outdoor adventures in Chippewa County. Whether on a trail or even in your own backyard, let us know what you are doing for healthy fun during the cold weather months while On the Go in the Snow.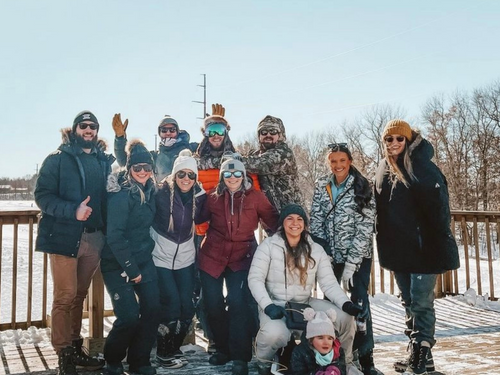 Photo Release: By uploading and submitting an image, you allow Go Chippewa County and Chippewa Health Improvement Partnership to use the images.