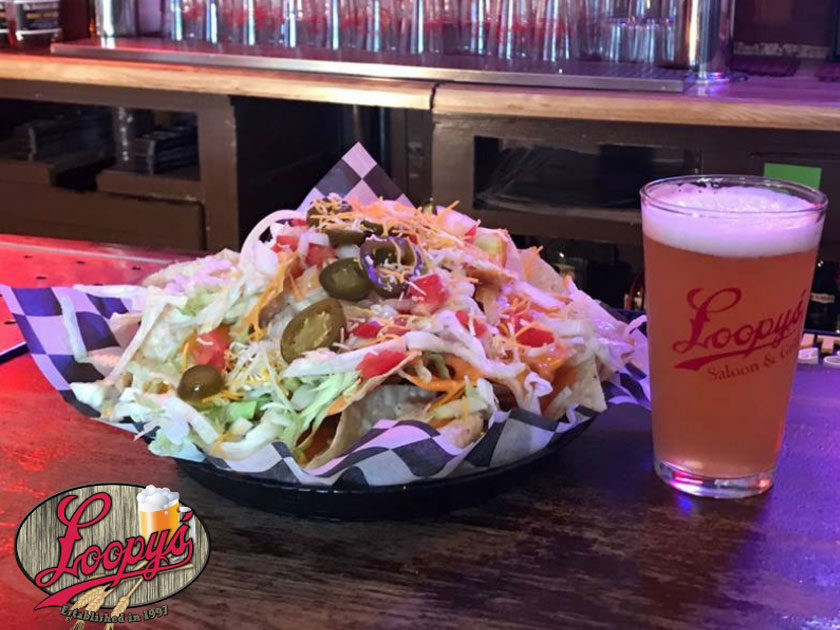 Address: 10691 Cty Hwy X
Phone: 715-723-5667
Website: Visit Now
Loopy's Grill & Saloon is open seven days a week to offer you loads of fun, no matter the season! Guests find a wide variety of menu items at this log cabin feel restaurant. Choose from salads, sandwiches, wraps, burgers, pizza, and, of course, Friday Night Fish Fry. The kitchen is always open seven days a week! All staff at Loopy's is dedicated to providing the best food and service in Chippewa Falls. They believe what makes this a special stop is their dedication to excellence in entertainment, food, service, and atmosphere.
Located on the Chippewa River, this is a starting and ending point for tubing the river. Rent tubes from Loopy's or bring your own, and use the free shuttle to get dropped off at the floating starting point. Enjoy a couple hours of peaceful floating before hopping out at Loopy's dock to grab a bite and a drink!
There is a wide selection of on tap beers, wine, and liquor. During the summer months, stop by their Cruzan Rum Tiki Bar in the Leinenkugel's Backyard Beer Garden! Bar opens at 10:00 AM and closes at bar close.
Loopy's is the perfect place for your event! From intimate meetings to large parties and conferences, they can arrange the perfect setting to suit your needs. Their event dome can seat up to 500 people. With volleyball courts, bean bags, a bar, and access to the restaurant, this will give your guests a unique and fun experience.