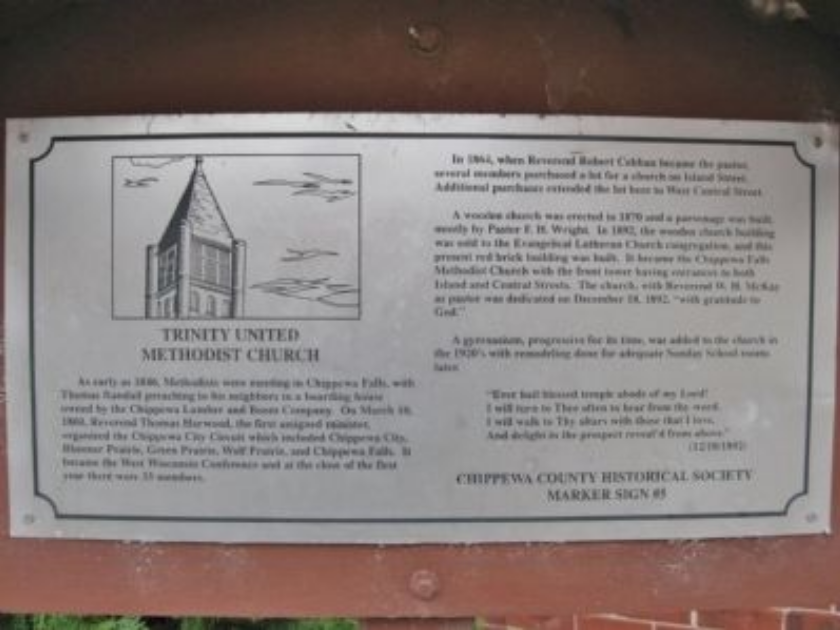 Address: 201 W. Central St.
As early as 1846, Methodists were meeting in Chippewa Falls, with Thomas Randall preaching to his neighbors in a boarding house owned by the Chippewa Lumber and Boom Company. On March 10, 1860, Reverend Thomas Harwood, the first assigned minister, organized the Chippewa City Circuit, including Chippewa City, Bloomer Prairie, Green Prairie, Wolf Prairie, and Chippewa Falls.
It became the West Wisconsin Conference, and at the close of the first year, there were 33 members. In 1864, when Reverend Robert Cobban became the pastor, several members purchased a lot for a church on Island Street. Additional purchases extended the lot here to West Central Street.
A wooden church was erected in 1870, and a parsonage was built, mainly by Pastor F. H. Wright. In 1892, the wooden church building was sold to the Evangelical Lutheran Church congregation, and the present red brick building was built. It became the Chippewa Falls Methodist Church, with the front tower having entrances to both Island and Central Streets. With Reverend W.H. McKay as a pastor, the church was dedicated on December 18, 1892, "with gratitude to God."
A gymnasium, progressive for its time, was added to the church in the 1920s, with remodeling done for adequate Sunday School rooms later. "Ever hail blessed temple abode of my Lord! I will turn to Thee often to hear from thy word. I will walk to Thy altars with those that I love, and delight in the prospect reveal'd from above." December 18, 1892