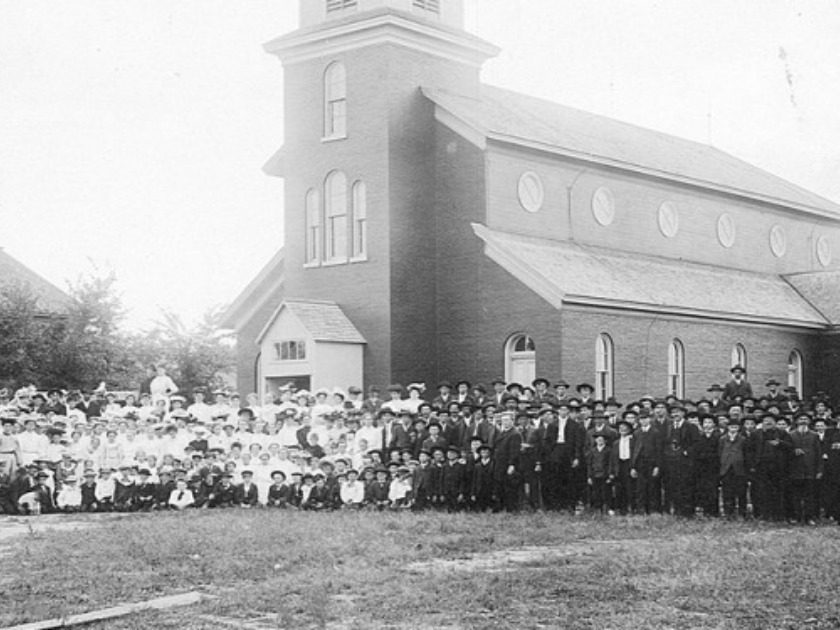 In the early 1850s, settlers from Rhine, Bavaria, Bohemia, and Luxembourg came to this part of Wisconsin, now known as Tilden Township. They vowed to build a church in honor of the "Blessed Virgin Mother of God," giving thanks for their safe voyage to the new country.
The first priest for the settlers in Tilden was Father Migneault in 1857. The following year he was succeeded by Father Smeding, who organized St. Peter's congregation. In 1860 he laid the foundation for a new church building. A month after Bishop Michael Heis of LaCrosse confirmed a class of 55 children, he appointed Father A. Koke as the first resident pastor on July 31, 1869. That October, parochial school classes began when Franz Stoffel started teaching in the church.
The School Sisters of Notre Dame arrived here on March 1, 1872. In May 1875, a new St. Peter's Church resembling a miniature Roman basilica was built on the present site. Father Joseph Reister had the current school building constructed in 1905. Parishioners decided in 1941 that a new church was needed, so the old structure was taken down.
The present church building was built and dedicated in 1942. St. Peter's has played a vital role in the spiritual life of this area as the congregation continues to worship and serve God.