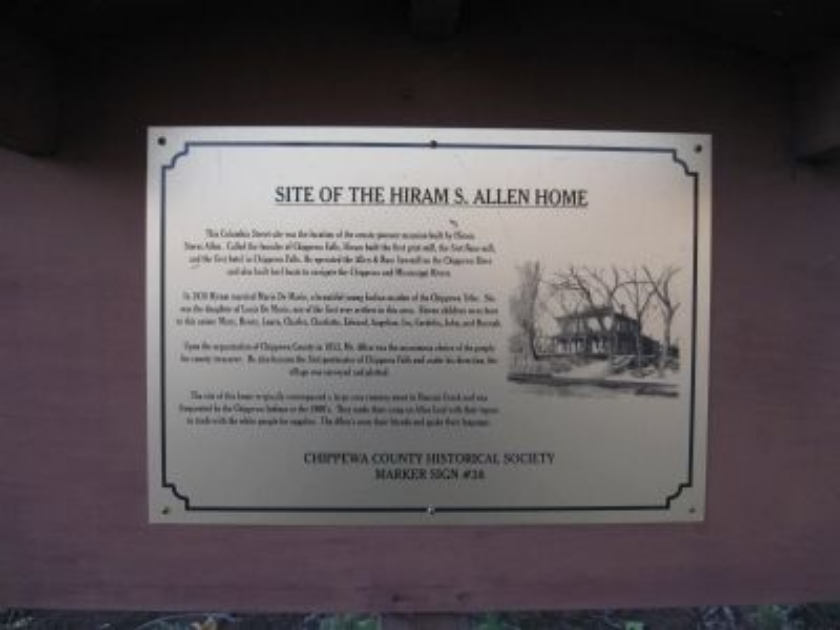 Address: 44 E. Columbia St.
This Columbia Street site was the location of the ornate pioneer mansion built by the founder of Chippewa Falls, Hiram Stores Allen. Hiram built the first grist-mill, the flour-mill, and hotel in Chippewa Falls. He operated the Allen & Bass Sawmill on the Chippewa River and built keel boats to navigate the Chippewa and Mississippi Rivers.
In 1838 Hiram married Marie De Marie, a beautiful young Indian maiden of the Chippewa Tribe. She was the daughter of Louis De Marie, one of the first ever settlers in this area. Eleven children were born to this union: Mary, Henry, Laura, Charles, Charlotte, Edward, Angeline, Ira, Cordelia, John, and Hannah. Upon the organization of Chippewa County in 1853, Mr. Allen was the unanimous choice of the people for county treasurer.
He also became the first postmaster of Chippewa Falls, and under his direction, the village was surveyed and plotted. This home's site originally encompassed a large area running down to Duncan Creek and was frequented by the Chippewa Indians in the 1800s. They made their camp on Allen land with their tepees to trade with the white people for supplies. The Allen's were their friends and spoke their language.