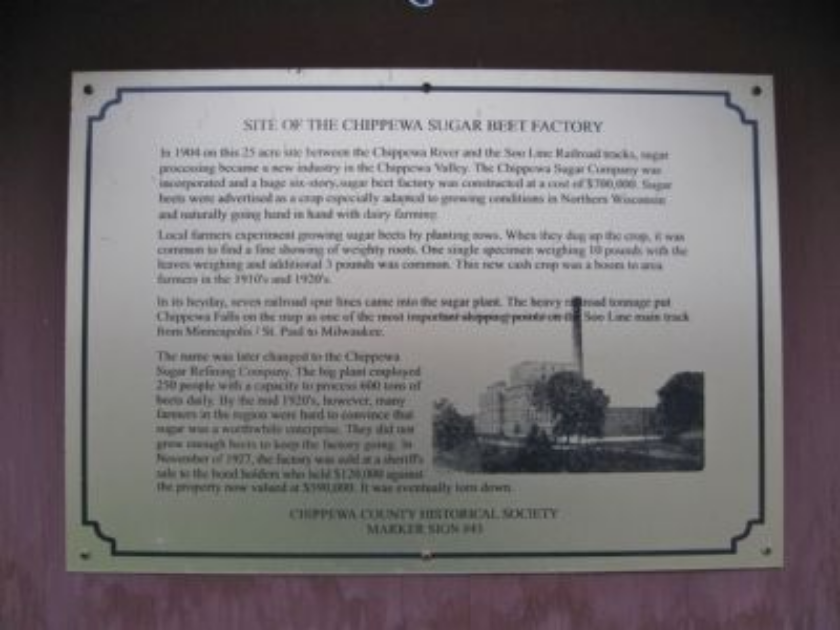 Address: River St. and Water Dept.
In 1904 on this 25-acre site between the Chippewa River and the Soo Line Railroad tracks, sugar processing became a new industry in the Chippewa Valley. The Chippewa Sugar Company was incorporated, and a six-story sugar beet factory was built for $700,000.
Sugar beets were advertised as a crop especially adapted to the growing conditions in Northern Wisconsin, which naturally goes hand in hand with dairy farming. Local farmers experimented with growing sugar beets by planting rows. When they dug up the crop, it was common to find a fine showing of weighty roots.
One single specimen weighing 10 pounds with the leaves weighing an additional 3 pounds was common. This new cash crop was a boom to area farmers in the 1910s and 1920s. In its heyday, seven railroad spur lines came into the sugar plant. The heavy railroad tonnage put Chippewa Falls on the map as one of the most important shipping points on the Soo Line main track from Minneapolis, St. Paul to Milwaukee. The name was later changed to the Chippewa Sugar Refining Company.
The big plant employed 250 people with a capacity to process 600 tons of beets daily. By the mid-1920s, however, many farmers in the region were hard to convince that sugar was a worthwhile enterprise. They did not grow enough beets to keep the factory going.
In November of 1927, the factory was sold at a sheriff's sale to the bondholders who held $120,000 against the property then valued at $590,000. It was eventually torn down.