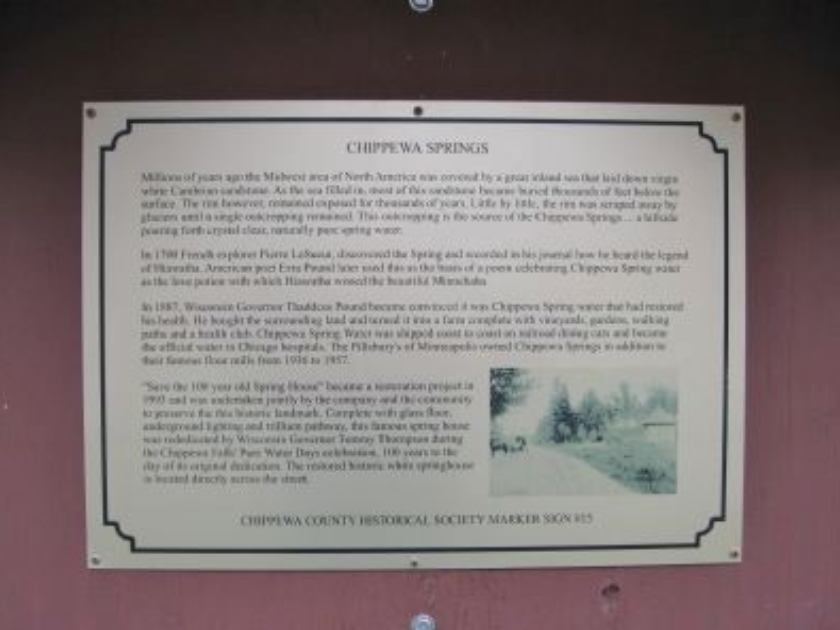 Address: 600 E. Park Ave.
Millions of years ago, the North American Midwest was covered by a great inland sea that laid down virgin white Cambrian sandstone. As the sea filled in, most of this sandstone became buried thousands of feet below the surface. The rim of this sea, however, remained exposed for thousands of years.
Little by little, the rim was scraped away by glaciers until a single outcropping remained. This outcropping is the source of the Chippewa Spring, a hillside pouring forth crystal clear, naturally pure spring water, "Earth's Perfect Water."
In 1700 a French explorer, Pierre LeSueur, discovered the Spring and recorded in his journal how it was here that he heard the legend of Hiawatha. American poet Ezra Pound later used this as the basis of a poem celebrating Chippewa Springwater as the love potion with which Hiawatha wooed the beautiful Minnehaha.
In 1887, Wisconsin Governor Thaddeus Pound became convinced it was Chippewa Spring water that had restored his health. He bought the surrounding land and turned it into a model farm complete with vineyards, gardens, and walking paths. He founded the Chippewa Springs Health Club in 1889.
In 1893 the Spring House was built to protect the Spring. Chippewa Spring Water was shipped to the coasts on railroad dining cars and was the official water in Chicago hospitals. From 1936 to 1957, the Pillsbury's of Minneapolis owned the Chippewa Spring and their famous flour mills. The subsequent three decades ownership belonged to two generations of the Williams family of Chippewa Falls.
In 1992, the Springs were acquired by Todd Peterson. In 1993 a "Save the Spring House" restoration project was undertaken jointly by the company and the community to preserve this historic landmark. Complete with a glass floor, underground lighting, and trillium pathway, the project was rededicated by Governor Tommy Thompson during Pure Water Days, 100 years to the day of its original dedication.